Global Wellness Institute Presents
Geography of Wellness
---
The nonprofit Global Wellness Institute (GWI) is pleased to announce Geography of Wellness, a groundbreaking new initiative focusing on providing robust wellness market data for select countries around the world. GWI is the leading source of global wellness industry data, having defined and measured the size of the global wellness economy and its eleven sectors for more than a decade. In this new initiative, wellness sector data for individual countries will be made available to the public for the first time, with the support of exclusive Country Partners. Each country's wellness economy data is presented on a dedicated country webpage, as well as in a detailed Wellness Economy Country Report, which shows the trajectory of the wellness economy, the composition of the country's wellness economy, and other exclusive data by sector and subsector.
MAPPING THE WORLD'S WELLNESS TRADITIONS
---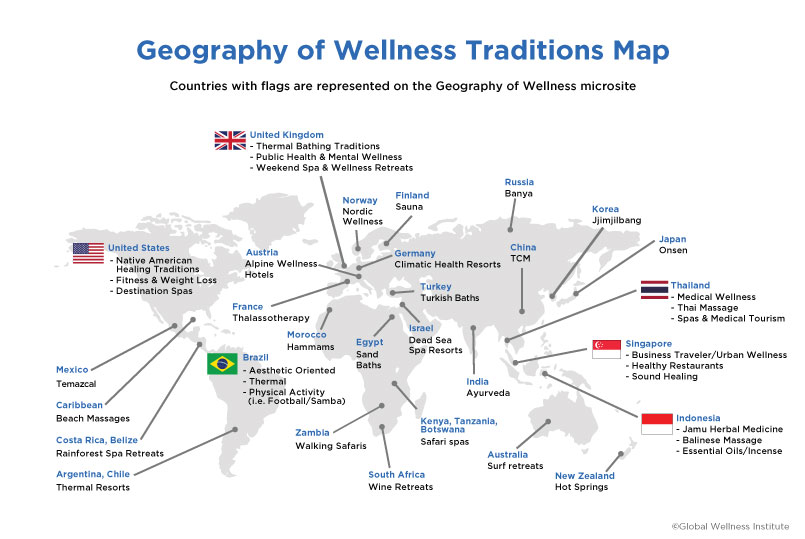 GLOBAL WELLNESS ECONOMY COUNTRY RANKINGS
---
In 2022, the Global Wellness Institute (GWI) released The Global Wellness Economy: Country Rankings, which is the first study to measure and rank the wellness economy across the world's regions and countries. The report ranks 150 countries by the size of their wellness economies, compares wellness to the size of each country's overall economy, and examines per capita spending on wellness.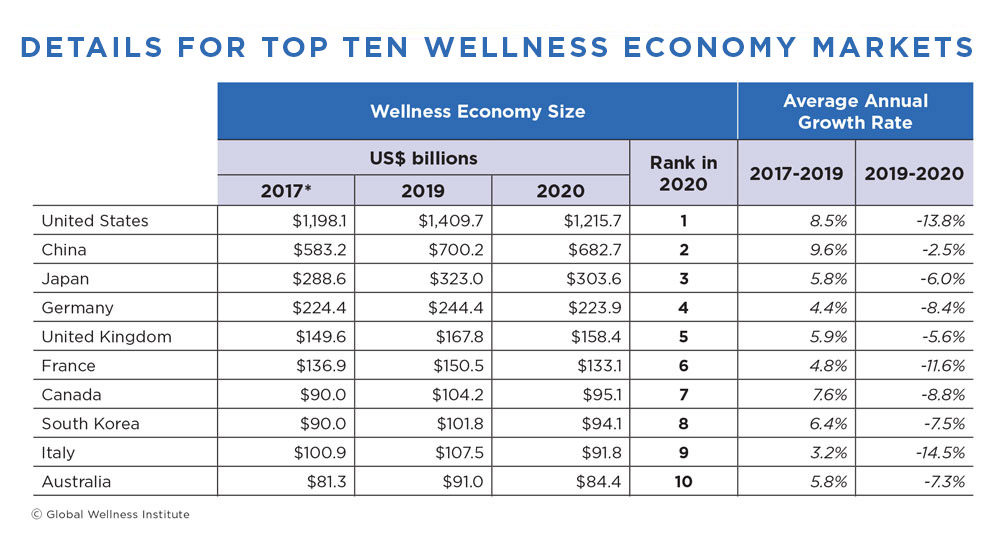 The Geography of Wellness webpages and country reports provide more detailed and exclusive country-level data at the sector level. If your country is not currently available on the Geography of Wellness page, you will find the overall size of your country's wellness economy in this report. The Geography of Wellness webpages and country reports, supported by Exclusive Country Partners, will provide far more extensive country-level data at the sector and subsector levels.
Global Wellness Economy Country Rankings 2020